Dihydrogen Monoxide in the Dairy Industry
The use of Dihydrogen Monoxide (DHMO) by farmers in the U.S. and internationally is prevalent. Typical of this is the widespread use of DHMO in the U.S. dairy industry. The facts surrounding DHMO's presence in the nation's milk supply are surprising. What may be even more surprising is the silence of the U.S. Government on the issue of DHMO in the milk our families drink every day.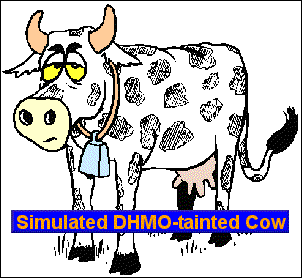 Simulation of image owned by
W.D. Hoard and Sons Co., Fort Atkinson, Wis.
An Expert Breaks the Silence
A former U.S. Food and Drug Administration employee and a specialist in the feeding of dairy cattle, Dr. Donna Maria Waltz, warns that regulation of DHMO in the dairy industry is lacking. According to Waltz, it is the single most commonly used chemical in the production of milk. Cows are encouraged to ingest large quantities of DHMO, with studies showing that this practice can lead to increased milk production. The side effects of this practice have not been well studied.
Economic pressures play a major role in the widespread use of DHMO in the dairy industry. In fact, in some areas, it is subsidized by the U.S. government. As a result, claims Waltz, DHMO is the single largest contaminant of milk. Governmental regulations cover the addition of DHMO to the milk once it leaves the cow, but do not cover levels of ingested DHMO.
Further, Waltz says, DHMO is used without an approved new animal drug application in treatments to disinfect cow udders and teats, to cure hoof problems, to alleviate the impact of bovine diarrhea, and both internally and topically to treat heat stress.
Purchasing DHMO-free milk is a good alternative for those who are worried about the lack of DHMO regulations in the dairy industry, suggests Waltz. Most grocery stores and pharmacies carry a number of DHMO-free milk products.
Investigation: DHMO Cover-up in Dairy Industry?
Is the dairy industry sensitive to being associated with DHMO? To what lengths would they go to eliminate any association, covering up any link at all between dihydrogen monoxide and the dairy industry? Here is a recent, shocking example of the extremes to which the people who bring you ice cold milk will go:
In our ongoing effort to provide up-to-date information regarding the dangers of DHMO in the dairy industry, the DHMO Organization inadvertently made use of an image of a cow (resembling the simulated image above) that was owned by the W.D. Hoard and Sons Co. of Fort Atkinson, Wisconsin, publishers of the famed and widely-read magazine "Hoard's Dairyman." Here is the initial request for removal, received via email on March 24, 2004:

    Dear [Director of DHMO.org] Tom Way,
    
    This message is to notify you that you and your organization are 
    in violation of a copyright infringement of W.D. Hoard and Sons 
    Company, Fort Atkinson, Wis. Your website ... has an image from 
    our January 25, 1994 issue of Hoard's Dairyman. Our front cover 
    none the less. 
    
    Our legal department has been notified and we are asking that you 
    remove the image immediately. Our organization and the farm that 
    owns that cow do not want it used. The only dairy industry 
    organization that reverses the rear legs on professionally 
    photographed cows is Hoard's Dairyman. We've been doing that for 
    74 years. If you don't believe us, we have the negatives to prove it. 
    
    We look forward to your immediate assistance.
    
    Sincerely. 
    Associate Editor
    Hoard's Dairyman
We were, naturally, shocked to discover our mistake, and were ready to remove the offending image. We also felt that such a photogenic cow might be the perfect spokescow for our cause. After all, this cow was not just any cow, it had appeared in "Hoard's Dairyman," and on the front cover at that! And, as enticing as was the offer to look through a golden treasure trove of 74 years worth of negatives of cow snapshots, we did not feel such an extreme measure was necessary, and decided to take the folks at W.D. Hoard & Sons at their word.
So, not wishing folks to misconstrue the deeper meaning of this glam-cow's crossed legs, we sent an admittedly belated request for permission to use the image:
    Dear [Associate Editor],

    I am certain that we can work this out.  That photo on
    our site was obtained from a clip archive and we had
    no idea it was yours.  I'm sure you'll be pleased to
    know that your cow is part of [an educational campaign].
    
    May [we] have permission to use the photo as it appears
    on [our] web site?  [We are] very sorry we've mistakenly been
    using your cow photo without your permission, but it
    is an ideal photo and certainly a lovely animal.  Please,
    if not for us, do it for the children.

    Best regards,
    Tom Way
    Director, DHMO Organization
Eventually, we received a denial of this seemingly gracious request for permission, but for what some would say a shocking reason. W.D. Hoard & Sons appears to believe the average citizen, that's you and I, are too uneducated to handle the designation of a cow being labeled as having anything to do with dihydrogen monoxide. It is not hard to come to the conclusion that there is some conspiracy or cover-up at W.D. Hoard & Sons, something they don't want us common folk to know about cows and DHMO? We really cannot say for certain whether or not there really is a cover-up as it appears, but the circumstantial evidence certainly does not prove otherwise. Here is the final, terse denial from March 29, 2004:
    Dear [Director of DHMO.org] Tom [Way],

    At this time, we are going to ask that no longer use our 
    image. Our company and it's legal team do not want an image 
    of our cow being called... "A DHMO-tainted cow." ...We 
    think the average citizen doesn't have enough chemistry 
    background to determine [the true nature of] dihydrogen 
    monoxide.

    We would urge you to check the sources of your photography.
    If you plan on using another cow, know that I know from memory 
    about every famous cow in the U.S., I will notify the photographer 
    and the owner if I see an other stolen use of photography.

    We look forward to your immediate action.

    Sincerely.
    Associate Editor
    Hoard's Dairyman
That is a very strong claim, but we find it hard to conceive that any individual could possibly know, off the top of his head, every famous cow. This unbelievable claim certainly seems to point in the direction of a suspiciously out-of-control spin doctor at the top of his craft. We reserve the ultimate decision about any possible cover-up or conspiracy to you, our prized and very well educated reader.
Copyright © by Tom Way